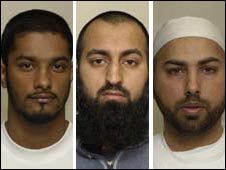 The jury in the trial of three men accused of helping the 7 July London bombers has failed to reach a verdict.
The Kingston Crown Court jury had spent three weeks considering a charge of conspiracy to cause an explosion.
Waheed Ali, 25, Sadeer Saleem, 28, and Mohammed Shakil, 32, all from Leeds, admit having known the 7/7 bombers but denied having helped them find targets.